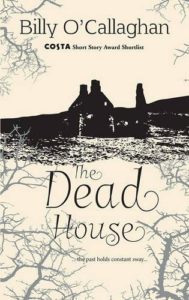 The Dead House
'The Dead House', published by Brandon Books (an imprint of O'Brien Press), May 2017, is available to buy from O'Brien Press, Amazon.co.uk, The Book Depository, or any good bookshop.
Attempting to rebuild her life after a violent relationship, Maggie Turner, a successful young artist, moves from London to Allihies and buys an ancient abandoned cottage. Keen to concentrate on her art, she is captivated by the wild beauty of her surroundings.
After renovations, she hosts a house-warming weekend for friends. A drunken game with a Ouija board briefly descends into something more sinister, as Maggie apparently channels a spirit who refers to himself simply as 'The Master'. The others are visibly shaken, but the day after the whole thing is easily dismissed as the combination of suggestion and alcohol.
Maggie immerses herself in her painting, but the work devolves, day by day, until her style is no longer recognisable. She glimpses things, hears voices, finds herself drawn to certain areas: a stone circle in the nearby hills, the reefs at the west end of the beach behind her home … A compelling modern ghost story from a supremely talented writer.
"…a welcome voice to the pantheon of new Irish writing"
~ Edna O'Brien
---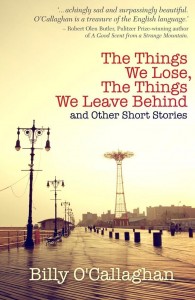 The Things We Lose, The Things We Leave Behind
'The Things We Lose, The Things We Leave Behind' (collection of short stories), published by New Island, September 2013, is available to buy from Amazon.com or Amazon.co.uk.
Reviews:
"I know of no writer on either side of the Atlantic who is better at exploring the human spirit under assault than Billy O'Callaghan. The stories in The Things We Lose, the Things We Leave Behind are at once harrowing and uplifting, achingly sad and surpassingly beautiful. O'Callaghan is a treasure of the English language."
~ Robert Olen Butler, author of the Pulitzer Prize-winning A Good Scent from a Strange Mountain
"The elegant force of Billy O'Callaghan's prose is immediate and impossible to recover from. He is one of Ireland's finest short story writers."
~ Simon Van Booy, Frank O'Connor Award-winning author of Love Begins in Winter
"It is a book which reads as both modern and traditional… O'Callaghan's protagonists may have a 'predilection for melancholy' but nevertheless there are touches of hope in how they seek to take control of their lives, moments of action which serve as valuable counterpoints and contribute much to the texture of the volume… Comparing those (earlier) volumes to The Things We Lose, The Things We Leave Behind suggests a definite arc to his development. Gone are the occasional surrealist tendencies and the younger writer's recourse to physical violence. One feels the heft of the words themselves is now much more in synch with the worldly weights threatening to crush his characters."
~ Val Nolan, The Irish Examiner (review of The Things We Lose, The Things We Leave Behind, November 2013)
"O'Callaghan's ability to use words to convey emotion is astonishing. He can draw you into each story in a few sentences, the words coming up from the page and wrapping around you, transmitting that emotion, the aching from the core of the piece into the reader themselves… a delight to read, with strong, immediate prose, a distinctive style that becomes a thing of beauty."
~ The Red Curtain (review of The Things We Lose, The Things We Leave Behind, November 2013)
"Billy O'Callaghan's The Things We Lose, The Things We Leave Behind [is a] masterclass in understatement…"
~ Dermot Bolger, the Irish Independent (essay on the Irish Short Story, November 2013)
"O Callaghan is a skilled prospector of language, sieving for the details that in less careful hands might be lost. He finds gems in the ordinary, the everyday, and holds them up to the light… Every word is a carefully placed stitch in the larger tapestry of story… The prose is clear, evocative, with the elegance and rhythm of long sentences masterfully handled, something O'Callaghan is particularly good at. He is also adept at knowing just how much space to leave the reader… And herein lies one of the great joys of the collection as a whole: O'Callaghan's ability to create stories that happen off the page as well as on. This is a stunning collection, powerful and lyrical, with stories that unfold, not just in the finely crafted words and sentences, but also in the gaps and silences."
~ Danielle McLaughlin, Southword Issue 25, December 2013.
"Never has sadness been surrounded by such relentless energy… Billy O'Callaghan plunges right into the centre of things. He is a very confident writer whose emotional control is extraordinary… And just when you hope there may be a pause coming, up comes another swirling breathless sentence… This is a powerful collection by a writer whose future work is highly anticipated."
~ Neil Donnelly, the Irish Independent, January 2014.
---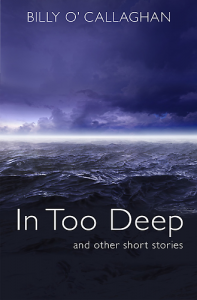 In Too Deep
'In Too Deep' (a short story collection), published by Mercier Press, July 2009, is available to buy from Amazon.com or Amazon.co.uk.
Reviews:
"If you have been introduced to a Black and Tan about to be assassinated, or a girl about to feed her grandfather stewed cat, or a lonely man set on designing his final resting place – a grave "Fit For a High King" – or a priest who has behaved improperly with a woman and is thinking of suicide but may decide against it because he is In Too Deep to despair, chances are you're in O'Callaghan country, Co Cork… Classy, and bleakly atmospheric."
~ Sunday Tribune (review of 'In Too Deep', June 2009)
"A masterful storyteller… O'Callaghan flexes his literary muscle with the grace of a dancer… (He) is the sort of writer who places heavy significance on the surreal and mythic power of everyday occurrences… That's what makes this book such a pleasure."
~ The Stinging Fly (review of 'In Too Deep', spring 2010)
"The characters and scenarios raised, though eclectic in the terms of location and of character emphasis, are really like the representations of a painting in language at once chromatic and vast. There's a fine art hugeness about the whole canon that however never lacks for intimacy… (these stories) are like finding amber on a beach."
~ Ireland's Literary Free Press (critical essay on 'In Exile' and 'In Too Deep', and expanding narrative tradition, 2011)
---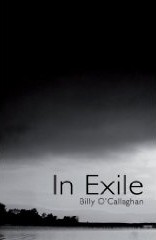 In Exile
'In Exile' (a short story collection), published by Mercier Press, June 2008, is available to buy from Amazon.com or Amazon.co.uk.
Listen to 'War Song', first broadcast on RTE Radio 1, 24th August 2005 as part of the Francis McManus Short Story Awards season:
http://www.rte.ie/radio1/francismacmanus/archive2005.html
Reviews:
"The landscapes and seascapes of Ireland form both backdrop and foreground in this collection of stories by award-winning writer Billy O'Callaghan. Ranging from the wildness of Cape Clear to the violent streets of Belfast, they speak of an Ireland that in some respects is long gone but in others has a modern resonance… Written in language at once lyrical and economical, "In Exile" presents a cast of characters, rich and poor, passive and violent, who are all in a sense yearning to return from exile to a place, a relationship, a particular stage in their lives."
~ The Irish Emigrant (review of 'In Exile' – July 2008)
"Traditional and hard-edged yarns about down-at-heel characters, wasters, mean, uncouth, insensitive… O'Callaghan is an award-winner, and he will win many more…"
~ The Sunday Tribune (review of 'In Exile' – July 2008)
"O'Callaghan writes evocatively of a way of life that has become memory rather than reality… he demonstrates an affinity with people and place which is tender but never trite, and invariably rewards the reader with a surprising twist."
~ The Irish Times (review of 'In Exile' – January 2009)
"The artistry… is spellbinding. O'Callaghan has injected his characters with enough resignation to make their failures believable, but enough emotion to convince us the failures are tragedies, not merely bad luck."
~ Hudson Review (USA) (critical essay on 'In Exile', and place in fiction, summer 2009)