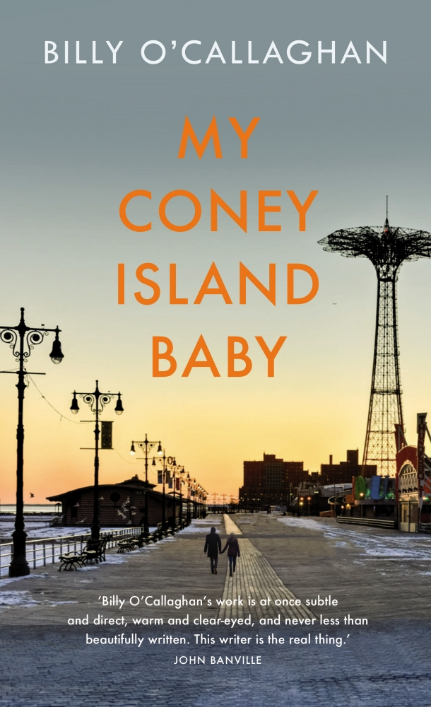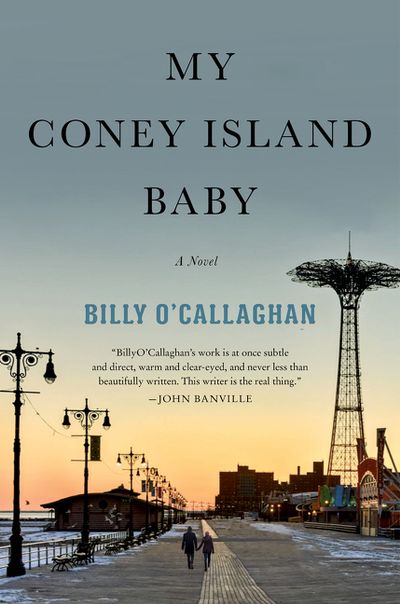 Billy's new novel, My Coney Island Baby, will be published by Jonathan Cape in the UK, as well as Harper Collins (USA), Grasset (France), Jelenkor (Hungary), Ediciones Salamandra (Spain), L'Altra Editorial (Catalonia), Ambo Anthos (Netherlands), Paseka (Czech Republic), btb Verlag (Germany) and Guanda (Italy).
"On a bitterly cold winter's afternoon, Michael and Caitlin escape their unhappy marriages to keep an illicit rendezvous. Once a month, for the past quarter of a century, Coney Island has been their haven.
These precious, hidden hours are their only nourishment. But now, amid the howling of an angry snowstorm, the shut-down, out-of-season resort feels like the edge of the world. And their lives, suddenly, are on the brink – with news of serious illness on one side, and a move to the Midwest on the other. And so, after half a lifetime spent in secret, certain long-avoided facts need to be faced, consequences examined, decisions made, and – perhaps – chances finally taken.
A quiet, intense drama of late-flowering intimacy, My Coney Island Baby condenses, within the course of a single day, the histories, landscapes, tragedies and moments of wonder that constitute the lives of two people who, although born worlds apart, have been drawn together.
O'Callaghan, a masterful prose stylist whose fiction carries an enormous and unusual emotional heft, has created a devastatingly powerful novel, cinematic in feel and scope, about two unforgettable characters and the choices they have made. This is a book full of sorrow, but also radiant with beauty, longing and breathless desire."
My Coney Island Baby is due to be released by Jonathan Cape in January 2019, and is available for pre-order now in the UK, Ireland and the Commonwealth from Amazon, Hive, The Book Depository and Waterstones.
In the US, it will be published by Harper Collins in April 2019, and is available for pre-order now from Amazon, Apple Books, Barnes & Noble, Books-a-Million, HarperCollins, IndieBound and The Book Depository.
---
'The Dead House', published by Brandon Books (an imprint of O'Brien Press), and in the US by Arcade/Skyhorse.
Attempting to rebuild her life after a violent relationship, Maggie Turner, a successful young artist, moves from London to Allihies and buys an ancient abandoned cottage. Keen to concentrate on her art, she is captivated by the wild beauty of her surroundings.
After renovations, she hosts a house-warming weekend for friends. A drunken game with a Ouija board briefly descends into something more sinister, as Maggie apparently channels a spirit who refers to himself simply as 'The Master'. The others are visibly shaken, but the day after the whole thing is easily dismissed as the combination of suggestion and alcohol.
Maggie immerses herself in her painting, but the work devolves, day by day, until her style is no longer recognisable. She glimpses things, hears voices, finds herself drawn to certain areas: a stone circle in the nearby hills, the reefs at the west end of the beach behind her home… A compelling modern ghost story from a supremely talented writer.
"…a welcome voice to the pantheon of new Irish writing"
~ Edna O'Brien
Reviews:
"In an isolated thatched cottage on a cliff at the edge of the sea in West Cork, where "even the air has wildness," four friends spend a boozy weekend celebrating the renovation of what was once an abandoned ruin in a spot so lonely it's "too easy to glimpse things." For entertainment, they've improvised a Ouija board. What could possibly go wrong? The festive atmosphere shifts rapidly to one of darkness and dread… a minor key of doomy disquietude as events unfold. Has Maggie given herself completely to the malevolent presence in her cottage? What dark spirit has been unleashed? And how far can it reach? These are the unanswerable questions that have prompted Michael to tell this story, years later, when he admits, "I've already lost a lot, but there's always more to lose." (And) still you keep reading, half-believing that dark forces are stirring, the way you might feel a planchette sliding across a Ouija board. Is it really happening? Or are you convincing yourself there's more going on here than there really is? Either way, you enjoy the creepy thrill."
~ New York Times, 3rd June 2018 (USA)
"An unspecified something that has just occurred prompts retired artists' agent Michael Simmons, the English narrator of Irish author O'Callaghan's chilling, beautifully written first novel, to tell a story he has tried to forget… O'Callaghan combines his gift at describing settings ("the casual filthy-white scatter of sheep flecking the distance, the tumbling ground a desperation of greenery, thick as pond-scum in parts") with subtle suggestions that something unnatural is going on. Fans of psychological thrillers with a ghostly undercurrent will be richly rewarded."
~ Publishers Weekly, March 2018 (USA) (starred review)
"A solid addition to the treasury of camp-fire ghost stories. Upon moving to a remote cottage on Ireland's southern coast, a painter named Maggie Turner inadvertently summons the house's malign spirits during a session at the Ouija board. These ghosts have been stalking the premises since the Great Famine, when a local man committed a sickening murder in an attempt to propitiate the ancient gods. Soon Maggie seems to be channelling him, both in her refractory behaviour and in her strange, scrawled paintings. The past in The Dead House is "thick as tar," as one character puts it, and its evils are content to bide their time, waiting for unwary visitors."
~ Wall Street Journal, May 2018 (USA)
"With an insidiously delicious eeriness, the horror builds slowly. After the reader is lulled into a sense of safety by descriptions of the country's beauty and Maggie's happiness, the presence of evil comes as a shock. The Dead House is a subdued chiller relating how death brings a circle of events to a halt, only to begin once more when a spirit regains admittance into the living world. There will be more than a few goosebumps raised before the reader finishes this one."
~ New York Journal of Books, May 2018 (USA)
"Already renowned for a collection of short stories, Billy O'Callaghan casts a fearful gaze into the world of supernatural occurrences in this striking debut. Elaborate description becomes bound up with our perception of the mind of the protagonist. O'Callaghan delves deep into the fragile aspects of the psyche, and there is a doom-laden air to in his sentences. Yet his 214-page tale flows with a certain ease and draws you in… Although not in strict terms a historical novel, The Dead House affords a fascinating glimpse into Famine times, as it builds towards an elegiac climax. If the reader is inclined to sideline the supernatural or religious aspects, the story can be read as a psychological mystery."
~ RTE.ie Culture, 2017
"A skilful, entertaining piece of work: a traditional ghost story in the best possible sense, The Dead House fulfils its formal obligations with subtlety and grace. In particular, Michaels' voice affords considerable readerly pleasure, [and] O'Callaghan's descriptive prose reaches impressive heights."
~ Sunday Business Post, 2017
"A beautifully eerie tale, a feast for your eyes, a torment for your mind. The exquisite cover immediately called to me, I found myself bewitched and reaching out to touch it. A house sits at the centre of this tale, a house bought as a means to escape, to reconnect, to exist at one with the surroundings. Michael (the narrator) invites us to listen to a story, and he paints a picture for you to taste, to feel. The descriptions are striking, particularly of the people, filling my eye and mind with their essence. Yet a trickle of unease hovers over the pages, encouraging thoughts to flicker, leaving you teetering on the edge of fear. Billy O'Callaghan writes with a skilfully light touch; this isn't a terrifying, afraid-to-sit-in-the-dark tale, it's more subtle than that. Instead it will creep inside minds, slice a little space for itself, and take up residence. The Dead House, with a shiver-inducing final few pages, is a wonderfully mesmerising read, and I loved it."
~ Lovereading.co.uk
"The all-nighter read. From the very first chapter, there's an eerily beautiful stillness to Billy O'Callaghan's The Dead House. You get a sense that you're looking for answers that shouldn't be found… An engrossing, striking debut from an Irish talent."
~ Image Magazine, 2017
"The author demonstrates his mastery of the slow build. The uncanny is notoriously difficult to achieve in fiction but here O'Callaghan slowly unsettles the reader, line by line, as reality is questioned. He skilfully conjures up a sense of dread, while at the same time creating a psychological internal terror for his characters. A superb debut novel from an extremely skilled Irish writer."
~ Evening Echo, 2017
---
The Things We Lose, The Things We Leave Behind
'The Things We Lose, The Things We Leave Behind' (collection of short stories), published by New Island, September 2013, is now out of print. It is available in Chinese from CITIC Press.
"I know of no writer on either side of the Atlantic who is better at exploring the human spirit under assault than Billy O'Callaghan. The stories in The Things We Lose, the Things We Leave Behind are at once harrowing and uplifting, achingly sad and surpassingly beautiful. O'Callaghan is a treasure of the English language."
~ Robert Olen Butler, author of the Pulitzer Prize-winning A Good Scent from a Strange Mountain
"The elegant force of Billy O'Callaghan's prose is immediate and impossible to recover from. He is one of Ireland's finest short story writers."
~ Simon Van Booy, Frank O'Connor Award-winning author of Love Begins in Winter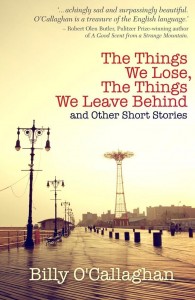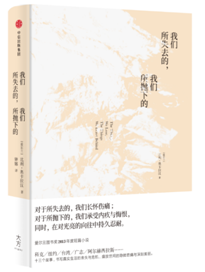 Reviews:
"It is a book which reads as both modern and traditional… O'Callaghan's protagonists may have a 'predilection for melancholy' but nevertheless there are touches of hope in how they seek to take control of their lives, moments of action which serve as valuable counterpoints and contribute much to the texture of the volume… Comparing those (earlier) volumes to The Things We Lose, The Things We Leave Behind suggests a definite arc to his development. Gone are the occasional surrealist tendencies and the younger writer's recourse to physical violence. One feels the heft of the words themselves is now much more in synch with the worldly weights threatening to crush his characters."
~ Val Nolan, The Irish Examiner (review of The Things We Lose, The Things We Leave Behind, November 2013)
"O'Callaghan's ability to use words to convey emotion is astonishing. He can draw you into each story in a few sentences, the words coming up from the page and wrapping around you, transmitting that emotion, the aching from the core of the piece into the reader themselves… a delight to read, with strong, immediate prose, a distinctive style that becomes a thing of beauty."
~ The Red Curtain (review of The Things We Lose, The Things We Leave Behind, November 2013)
"Billy O'Callaghan's The Things We Lose, The Things We Leave Behind [is a] masterclass in understatement…"
~ Dermot Bolger, the Irish Independent (essay on the Irish Short Story, November 2013)
"O'Callaghan is a skilled prospector of language, sieving for the details that in less careful hands might be lost. He finds gems in the ordinary, the everyday, and holds them up to the light… Every word is a carefully placed stitch in the larger tapestry of story… The prose is clear, evocative, with the elegance and rhythm of long sentences masterfully handled, something O'Callaghan is particularly good at. He is also adept at knowing just how much space to leave the reader… And herein lies one of the great joys of the collection as a whole: O'Callaghan's ability to create stories that happen off the page as well as on. This is a stunning collection, powerful and lyrical, with stories that unfold, not just in the finely crafted words and sentences, but also in the gaps and silences."
~ Danielle McLaughlin, Southword Issue 25, December 2013.
"Never has sadness been surrounded by such relentless energy… Billy O'Callaghan plunges right into the centre of things. He is a very confident writer whose emotional control is extraordinary… And just when you hope there may be a pause coming, up comes another swirling breathless sentence… This is a powerful collection by a writer whose future work is highly anticipated."
~ Neil Donnelly, the Irish Independent, January 2014.
---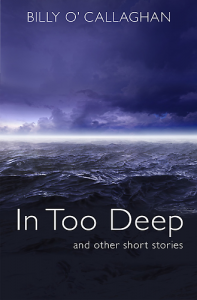 In Too Deep
'In Too Deep' (a short story collection), published by Mercier Press, July 2009, is now out of print.
Reviews:
"If you have been introduced to a Black and Tan about to be assassinated, or a girl about to feed her grandfather stewed cat, or a lonely man set on designing his final resting place – a grave "Fit For a High King" – or a priest who has behaved improperly with a woman and is thinking of suicide but may decide against it because he is In Too Deep to despair, chances are you're in O'Callaghan country, Co Cork… Classy, and bleakly atmospheric."
~ Sunday Tribune (review of 'In Too Deep', June 2009)
"A masterful storyteller… O'Callaghan flexes his literary muscle with the grace of a dancer… (He) is the sort of writer who places heavy significance on the surreal and mythic power of everyday occurrences… That's what makes this book such a pleasure."
~ The Stinging Fly (review of 'In Too Deep', spring 2010)
"The characters and scenarios raised, though eclectic in the terms of location and of character emphasis, are really like the representations of a painting in language at once chromatic and vast. There's a fine art hugeness about the whole canon that however never lacks for intimacy… (these stories) are like finding amber on a beach."
~ Ireland's Literary Free Press (critical essay on 'In Exile' and 'In Too Deep', and expanding narrative tradition, 2011)
---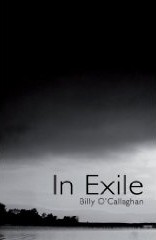 In Exile
'In Exile' (a short story collection), published by Mercier Press, June 2008, is now out of print.
Listen to 'War Song', first broadcast on RTE Radio 1, 24th August 2005 as part of the Francis McManus Short Story Awards season:
http://www.rte.ie/radio1/francismacmanus/archive2005.html
Reviews:
"The landscapes and seascapes of Ireland form both backdrop and foreground in this collection of stories by award-winning writer Billy O'Callaghan. Ranging from the wildness of Cape Clear to the violent streets of Belfast, they speak of an Ireland that in some respects is long gone but in others has a modern resonance… Written in language at once lyrical and economical, "In Exile" presents a cast of characters, rich and poor, passive and violent, who are all in a sense yearning to return from exile to a place, a relationship, a particular stage in their lives."
~ The Irish Emigrant (review of 'In Exile' – July 2008)
"Traditional and hard-edged yarns about down-at-heel characters, wasters, mean, uncouth, insensitive… O'Callaghan is an award-winner, and he will win many more…"
~ The Sunday Tribune (review of 'In Exile' – July 2008)
"O'Callaghan writes evocatively of a way of life that has become memory rather than reality… he demonstrates an affinity with people and place which is tender but never trite, and invariably rewards the reader with a surprising twist."
~ The Irish Times (review of 'In Exile' – January 2009)
"The artistry… is spellbinding. O'Callaghan has injected his characters with enough resignation to make their failures believable, but enough emotion to convince us the failures are tragedies, not merely bad luck."
~ Hudson Review (USA) (critical essay on 'In Exile', and place in fiction, summer 2009)