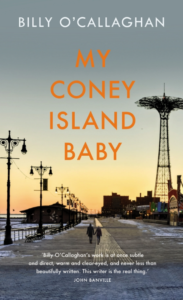 Billy's new novel, My Coney Island Baby, will be published by Jonathan Cape in January 2019, and in a number of other territories shortly after.
The book is now available for pre-order in the UK from Amazon, Hive, The Book Depository and Waterstones.
In the US, it will be published by Harper Collins in April 2019, and is available for pre-order from Amazon, Apple Books, Barnes & Noble, Books-a-Million, HarperCollins, IndieBound and The Book Depository.