My Coney Island Baby
Billy's new novel, My Coney Island Baby, will be published by Jonathan Cape in the UK, as well as Harper Collins (USA), Grasset (France), Jelenkor (Hungary), Ediciones Salamandra (Spain), L'Altra Editorial (Catalonia), Ambo Anthos (Netherlands), Paseka (Czech Republic), btb Verlag (Germany) and Guanda (Italy).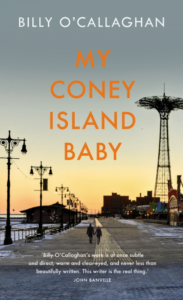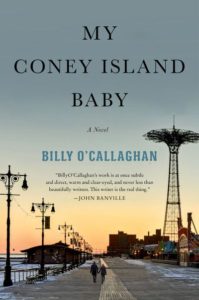 "On a bitterly cold winter's afternoon, Michael and Caitlin escape their unhappy marriages to keep an illicit rendezvous. Once a month, for the past quarter of a century, Coney Island has been their haven.
These precious, hidden hours are their only nourishment. But now, amid the howling of an angry snowstorm, the shut-down, out-of-season resort feels like the edge of the world. And their lives, suddenly, are on the brink – with news of serious illness on one side, and a move to the Midwest on the other. And so, after half a lifetime spent in secret, certain long-avoided facts need to be faced, consequences examined, decisions made, and – perhaps – chances finally taken.
A quiet, intense drama of late-flowering intimacy, My Coney Island Baby condenses, within the course of a single day, the histories, landscapes, tragedies and moments of wonder that constitute the lives of two people who, although born worlds apart, have been drawn together.
O'Callaghan, a masterful prose stylist whose fiction carries an enormous and unusual emotional heft, has created a devastatingly powerful novel, cinematic in feel and scope, about two unforgettable characters and the choices they have made. This is a book full of sorrow, but also radiant with beauty, longing and breathless desire."
My Coney Island Baby is due to be released by Jonathan Cape in January 2019, and is available for pre-order now in the UK, Ireland and the Commonwealth from Amazon, Hive, The Book Depository and Waterstones.
In the US, it will be published by Harper Collins in April 2019, and is available for pre-order now from Amazon, Apple Books, Barnes & Noble, Books-a-Million, HarperCollins, IndieBound and The Book Depository.
Now in Chinese
The Things We Lose, The Things We Leave Behind – ORDER HERE
Ploughshares Solos 6.4
Billy O'Callaghan's short story, A Death In The Family, has been released as a Ploughshares Solo.
Nellie's brother Jimmy passed away when she was only nine years old. As she reflects on the accident that claimed his life, she must acknowledge her own mortality and the empty space that death leaves behind.
The story can be obtained as a digital download from Ploughshares, or on Amazon.com/Amazon.co.uk.